About Us
Highlands Designs Company Background
Highlands Designs, LLC
was established in 2006 to provide customers with a quick and easy way of buying customizable unfinished or finished cabinets, furniture and bookcases online. We have served over 6,000 customers who wanted to take charge of their own home remodeling project. We know how tedious it is to go to a large design center or home improvement store such as Home Depot or Lowes, sit down with a designer for several hours, and end up paying more than necessary or not being able to get the sizes or styles you want. So, we created a site where you can shop for everything online without the hassle.
Not only is our selection of cabinets and furniture of the highest quality, we also strive to provide them at the best prices you will find anywhere. They are made using solid wood and furniture-grade plywood, NOT particleboard or MDF like some brand-name manufacturers use. Most items are available in Maple, Oak or Cherry, with Pine and Hickory available upon request.
All Woodcraft and Arthur Brown products are made in the USA (Pennsylvania) and now available either unfinished or finished in one of 16 stain colors and any of the thousands of Benjamin Moore or Sherwin Williams paint colors.
If you can't wait for semi-custom products to be built, we now offer Aristokraft stock cabinets, available in 10 stain and 2 paint colors within four weeks (or longer if out of stock). However, the manufacturer does not disclose where Aristokraft cabinets are made, so we can only assume they are made in Asia (possibly China). For this reason, we recommend our high-quality American made Woodcraft and Arthur Brown brand cabinets.
To contact us, please send an email to: customerservice@highlandsdesigns.com. Email is preferred. To keep our overhead and prices low, we do not have someone on call to answer the phone. So, if you need to speak to someone, please send us an email with your phone number or leave a voicemail at: 410-878-6289 and we will email or call you back. Please see some of our customer testimonials below or the reviews on our Houzz page.
---
Customer Testimonials
"So far everything that I have purchased from you is great. You are the first place I go when I look for cabinets. Keep up the great customer support."
- N. Porochnia, New York
"We stained the cabinets yesterday and are absolutely thrilled with the results! The quality of workmanship is superb, hardly needed any sanding to ready them for staining, and the units are so solid and sturdy, we can't wait to install them. In a time when most manufacturing is being done in foreign countries, and American workmanship is disappointing, it is fantastic to find an American company where quality and value mean something. Thank you so much!!!"
- J. Shade, Pennsylvania
"Pleased with the clean simplicity and nice quality!"
- N. Eichacker, Maryland
"Thank you for the excellent bookcases. They are now installed and look quite good. Each bookcase is exactly 27 1/4 wide as requested, each of the units had the same dimensions and was well squared, which made attaching three of them together much easier. Also, the moldings are nicely made of thick well finished wood. The delivery was quick and smartly done. Doing business with you has been a pleasure and I wholeheartedly recommend both your products and sales staff."
- P. Winterfeldt, District of Columbia
"My bookcase came and it is gorgeous!"
- D. Hawhee, Pennsylvania
"I am so happy to have found a real oak desk in the shaker style, made in the USA for my new home office! Thank you for offering a locally-made, beautiful, real wood alternative to the laminated fare sold almost everywhere else. This desk is a dream come true. I can't wait to get the finish on it and begin using it. I know the fine quality of this product will improve the quality of my work while using it for many years to come."
- J. Merchant, Maryland
"Everything arrived in good order. Your communication has been great and I'm very happy with the order. I definitely plan to make other purchases form Highlands Designs and would not hesitate to refer others to you as well."
- E. Johnston, New York
"We finally finished our project. Just wanted to let you know how pleased we were with the quality of the custom bookcases. I have attached pictures of the before and after project."
- J. Michaud, Maryland
"The cabinets are finally installed and they look awesome. My contractor loves these cabinets - he raved and raved about them.... The paint finish is really nice."
- A. Palmiter, Rhode Island
"First of all, let me thank you for the wonderful job y'all did in expediting my order, secondly for the great job y'all did in the doors and drawer facings i ordered...i am sending a zip file with before :-( and after :-D pics of the cupboards and drawers...a little work, myself and a few friends, with finishing the doors/drawer facings and reinstalling, it now looks like a whole new kitchen to my husband, friends and myself of course, without the huge expense of replacing entire cabinets as well...thanks for all you've done, i'm so happy with it all, i just can't express it enough...i will definitely be recommending y'all to friends, family, etc...keep up the good work!!...have a great holiday season...thanks a ton."
- R. Gibson, Florida
"Our kitchen cabinets look great and we love them! Will send you pictures."
- L. Jorgensen, Florida
"A week ago I got the cabinet door and I just wanted to drop you a note and say "thank you" for making this happen. I really appreciate it and also appreciate the fact that your company serves its customers in such a way. I will again be ordering some additional items from Highlands Designs in the near future."
- J. Blount, California
"We loved the cabinets. You guys do excellent work."
- A. Cleaveland, Maryland
"We received the small bookcase today. It is beautiful. Thank you for such good work."
- S. Cummins, Ohio
---
About Woodcraft Products

GP Cabinets, located in Pennsylvania, is run by former employees of Woodcraft Industries, Inc., which is no longer in operation. GP Cabinets specializes in the design of real wood ready-to-finish furniture and kitchen cabinets, but also builds all the other Woodcraft lines of bookcases and other wood furniture. Not all of the older furniture lines are listed in our online catalog, but if you want to match something you already have, or need something not listed, please ask.
The Woodcraft line of products do not use particleboard, only solid wood and plywood. Their quality, real wood design reveals the classic beauty of responsibly harvested, premium grades of Maple and Oak, and we are also able to obtain Pine, Cherry, and Hickory upon request. Details like durable English dovetailed solid wood drawers, easy rolling metal European-style drawer glides and solid wood doors and drawers guarantee your purchase will last for generations.
---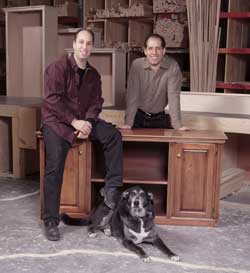 About Arthur W. Brown Products
Arthur W. Brown Mfg. Co., Inc. of Long Island, New York, was created by Anthony and Phil Sabatino in 1988, but ended operations at the end of 2018. However, since Arthur Brown products have always been in high demand, we are able to produce their styles at GP Cabinets in Pennsylvania. So, if you are a new or an repeat customer, you will still be able to obtain their designs.
Arthur W. Brown styles have been used to create and design many wall systems. Most products can be modified to accommodate any request. Products range from Entertainment Centers to TV Consoles, from Bookcases to Home Office. If you cannot find a standard size to suit your needs they can provide a custom furniture solution.
---

60 Years of Aristokraft Excellence: Six decades after Aristokraft was founded in Jasper, Ind., it still leads the cabinet industry when it comes to quality and affordability. A stock cabinetry line, Aristokraft features stylish designs that are easy on the pocketbook without sacrificing on organizational solutions. Case in point: for the ultimate in adaptability, the Adaptable Wall Vanity Sink Base allows a standard bath vanity to transform into an ADA-compliant wheelchair access option, with just one simple change.
In the mudroom, make way for space-saving Utility Cabinet, where brooms and mops are kept out of sight. And in the kitchen, Aristokraft finds space where there was none before, thanks to the 6-Inch Wide Base Pullout Cabinet, great for frequently used small items, and the 12-Inch-Deep Open Base Cabinet that transforms an end cabinet into a useful landing place for cookbooks or dishes.
Aristokraft is a brand of MasterBrand Cabinets, Inc., the largest cabinet manufacturer in North America Headquartered in Jasper, Indiana. Its powerful portfolio of brands -- ranging from standard to custom -- offers quality cabinetry solutions for kitchen, bath and other areas of the home.